It has been an exciting and important week of networking at the Academy this week. With Newspaper articles, radio interviews and international touring side visits.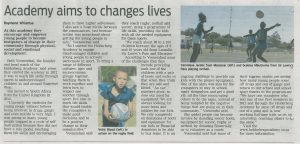 Looking in the District mail last week showed a large article on the Academy, giving more detail about what we do and why we do it (click the above photo to read through the article). It was such a fantastic opportunity for more exposure in the local area and it didn't stop there! After seeing the article in the newpaper we were contacted by Helderberg Radio to do an interview in their community slot this Monday. The interview went really well, with Beth being able to share the heart of the Academy for the fatherless generation, to share sucess stories and another opportunity to ask for support and donations. After the interview Beth was also able to have a really positive chat with the presenter who had some really helpful suggestions for pushing further into networking with schools and other organisations for futher support. To hear the interview, click the following link:
https://www.dropbox.com/s/vdrwn2u9iov4mz5/Beth%20live%20and%20exclusive.mp3?dl=0
On Monday we had a very exciting time in Macassar, networking with a Scottish University 'Herriot Watt' Rugby touring side. The team has spent 2 weeks here in South Africa, playing a few teams in the Cape Town region. As part of their time here they wanted to link with a local organisation working in communities to see and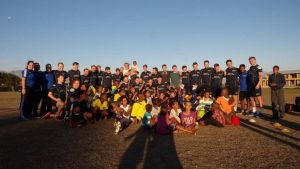 understand what challenges there are for people living in South Africa. They joined the Academy in Macassar where we brought some of our Sir Lowrys Pass boys to the training also. The touring side took charge of the session, coaching the boys rugby skills through games and through drills. All of our boys were super excited to have a full rugby squad there for the whole session. At the end of the training the touring side had brought over different tops and pieces of rugby kit to give to the children who train with us. Being able to network with local organisations and also travelling teams/organisations is a large part of who we are. To give everyone a real perspective of what life can be like in these communities, and putting cultural differences aside through building bridges in sports like rugby, netball and soccer. The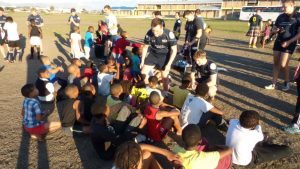 touring side were excellent in the session always helping out and giving there best to the young people. If there are any others wanting to connect with local organisations working with local people and breaking down barriers and building bridges then please let us know.
Thank You, The Helderberg Academy.