As usual, the last week of the month is Match week at The Academy. After a month of looking at Confidence in our coaching sessions it was time to draw together all they had learnt and put it into practice.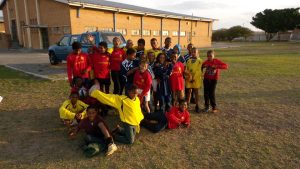 Monday we had Lwandle Seniors v Young Bafana and an intern-house match in Macassar for our Netball girls. On Wednesday our Lwandle Juniors played soccer against Hope and Light school in Sir Lowry's Pass, whilst our Sir Lowrys Pass girls played Hope and Light in a round robin tournament. We finished the week with a Rugby match in Macassar – Macassar v Sir Lowry's Pass.
We really have seen the development of confidence grow in these boys and girls. In rugby we have had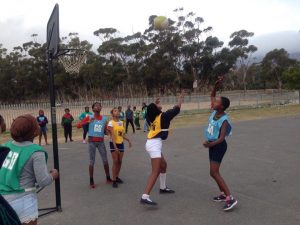 the smallest players on the pitch being scared to tackle and get involved fully now risking it all for their team and playing with trust in their own ability and in their team mates. We have seen the Netball girls develop in their confidence of core skills like passing and catching giving the confidence to develop tactical awareness and play freely on the pitch, an we've seen growth in our soccer midfielders, taking ownership on the pitch trusting their team mates and playing as a true team not as individuals.
It has been another fantastic month at the Academy seeing this boys and girls grow in character and in understanding of who they are, both on and off the field/court. As we move into June and Winter, we look to our next topic of Responsibility, preparing to see many of our kids stepping up out of their comfort zones in confidence and seeing them take responsibility over themselves, their team and the game.
Thank you for your continued support.
The Helderberg Academy Team